Art, Urban Change, and the Public Sphere, Public Art Education Summit
October 17, 2019 @ 9:00 am

-

October 19, 2019 @ 12:00 am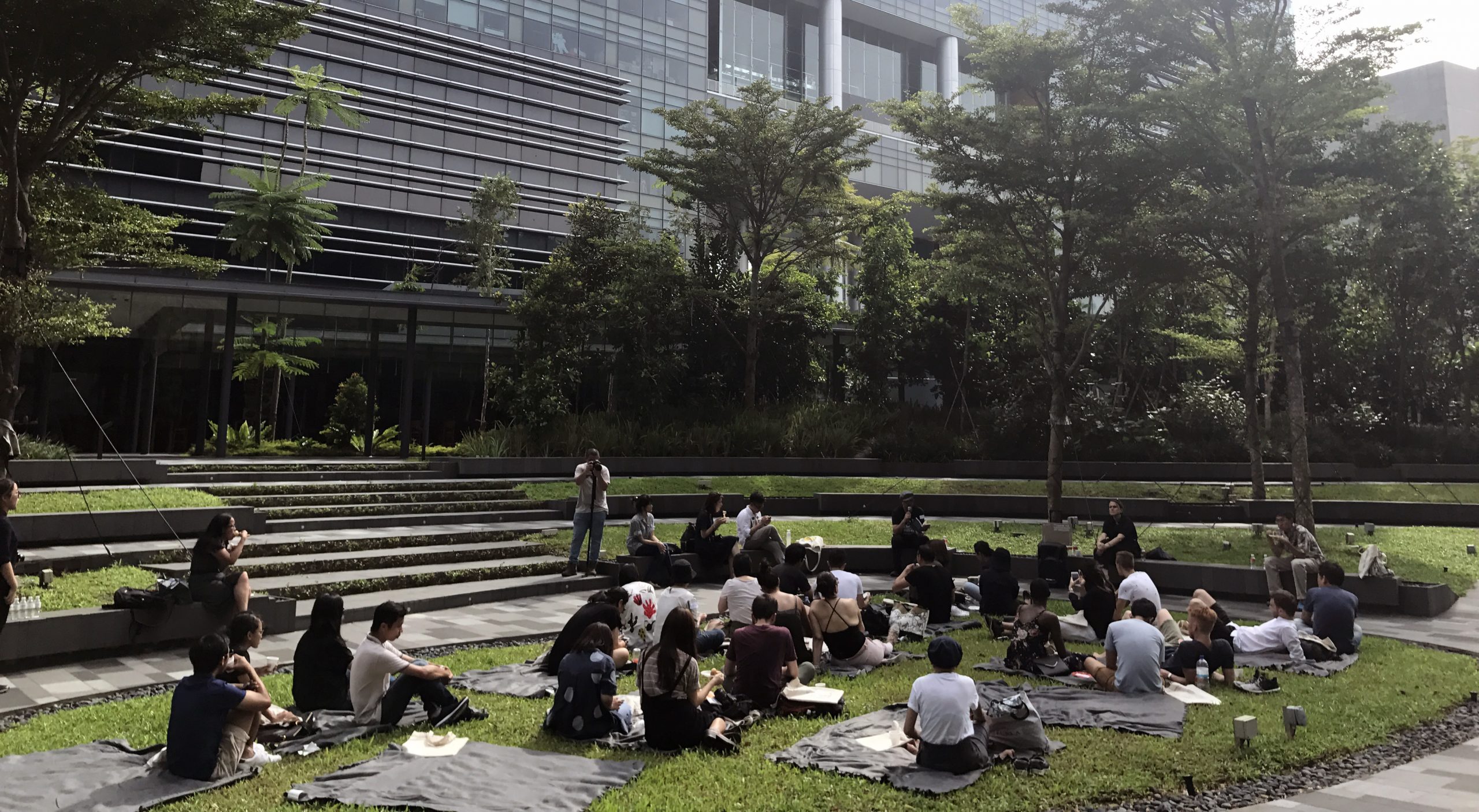 Art, Urban Change, and the Public Sphere
NTU CCA Singapore is pleased to present Art, Urban Change, and the Public Sphere, which engages with art in privately owned public spaces through a Public Art Education Summit and research presentation. Taking as its point of departure the neighbouring Culture City. Culture Scape. Public Art Trail at Mapletree Business City—developed with curatorial consultation by NTU CCA Singapore—the Summit and presentation explore broader cultural and artistic developments on a civic scale situated in urban landscapes. How do political and economic changes in the public realm evoke a regional discourse on art in cities?
Public Art Education Summit
17 – 19 October 2019
NTU CCA Singapore
Guest-of-Honour: Prof Wang Dawei, Executive Dean, College of Fine Arts, Shanghai University
With contributions by: Ute Meta Bauer (Germany/Singapore), Richard Bell (Australia), Lewis Biggs (UK), Lilian Chee (Singapore), Amanda Crabtree (UK/France), Daniel Mudie Cunningham (Australia), Eileen Goh (Singapore), Sophie Goltz (Germany/Singapore), Catherine David (France), Limin Hee (Singapore), Kok Heng Leun (Singapore), Richard Lim (Singapore), Hongjohn Lin (Taiwan/Singapore), Massamba Mbaye (Senegal), Alecia Neo (Singapore), Alan Oei (Singapore), Nikos Papastergiadis (Australia), Milenko Prvački (Ex-Yugoslavia/Singapore), Jasmeen Patheja (India), Katherine Ann Leilani Tuider (US), Ashley Thompson (UK), et al.
With capability-development workshops by Amanda Crabtree (UK/France), Daniel Mudie Cunningham (Australia), Hongjohn Lin (Taiwan/Singapore) and Katherine Ann Leilani Tuider (US).
The Public Art Education Summit is the first of its kind in Singapore and part of a larger engagement of NTU CCA Singapore in professional education of public art. It focuses on cultural place-making and building communities through artistic practices. It aims to stimulate a debate between art professionals, policy makers, urban developers and other local stakeholders, on how and for whom art creates public spaces in our built environment. Any artistic or curatorial initiative in  "public space" must address the question of how to construct "a public" and with it, how to encounter identity. Any difference—be it regional and local, ethnic and religious, economic and social—generates its own cohabitation of urban space and public culture to communicate with. The challenge for art in the public sphere lies in its openness to existing and yet, imagined communities of civic urbanism. Ranging from corporate cultural engagement in privately owned public spaces to urban regeneration, the invited speakers draw connections to the beginnings of community engagement in public art with its fluid methods. Furthermore, they suggest a critical look at different artistic and curatorial practices which reflect on "artists as citizens." Or, how any space called public, first and foremost, is created by the different people inhabiting that space.
Held in association with College of Fine Arts, Shanghai University, and Institute for Public Art, London. Supported by Mapletree Investments and, additionally, by Public Art Trust, an initiative of National Arts Council Singapore.
Admission to the summit and the workshops is free.
Please register at https://bit.ly/2XJUYtm for the summit. Limited seats are available.
Please register at http://tiny.cc/amandacrabtreeworkshop / http://tiny.cc/katherinetuiderworkshop / http://tiny.cc/danielcunninghamworkshop / http://tiny.cc/hongjohnlimworkshop for workshops. Workshops are limited to 12 participants each.
For detailed information, please see http://tiny.cc/ntuccaPAES
Image caption: Discursive Picnic at Archifest 2017, Mapletree Business City II. Courtesy NTU CCA Singapore.
Signup here.